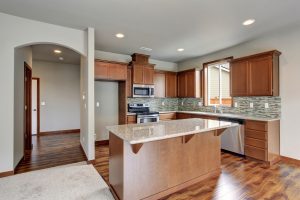 Quartz is a material that both homeowners and builders love to work with. Why? Because it outperforms the competition in numerous ways—all of which benefit you. Here are just some of the reasons why you should consider quartz countertops in Pittsburgh, PA, when you are looking to update your kitchen or bathroom:
It Is Non-Porous – Quartz is stain resistant and—as long as they are wiped away soon after a spill—will reject any liquids. This is quite different than some of the other natural stone surfaces, which can begin to absorb all of the different oils, juices, wines, and moisture that they have been in contact with throughout the years. Additionally, since quartz is non-porous, it does not need to be sealed.
It Is Low Maintenance – Quartz countertops continue to look good for many years without much work on your behalf. Spills just need to be wiped up with a damp sponge—no scrubbing, poultices, or special cleansers required. It is also scratch-resistant, which means even less to worry about.
It Is Highly Durable – Quartz is a solid and durable surface that allows you to move at your own pace in the kitchen without worrying about damaging your counters. It is also heat resistant, which helps reduce the potential of burns and fires.
It Is Stylish – All of that durability may not mean a lot if quartz wasn't also quite attractive. These counters come in a wide range of colors and patterns that can perfectly mimic the look of granite, marble, and concrete. You also won't see as many pits, fissures, cracks, color streaks, and other imperfections that are common in other stone surfaces.